Does it ever feel like you can't catch a break when it comes to deciding what to make for breakfast? Look no further! We've got the perfect solution for your early morning battles: low-carb meals that still pack a nutritious punch. Whether you're looking to slim down or just want to kickstart the day with something healthy, these recipes are sure to make your morning meals a breeze.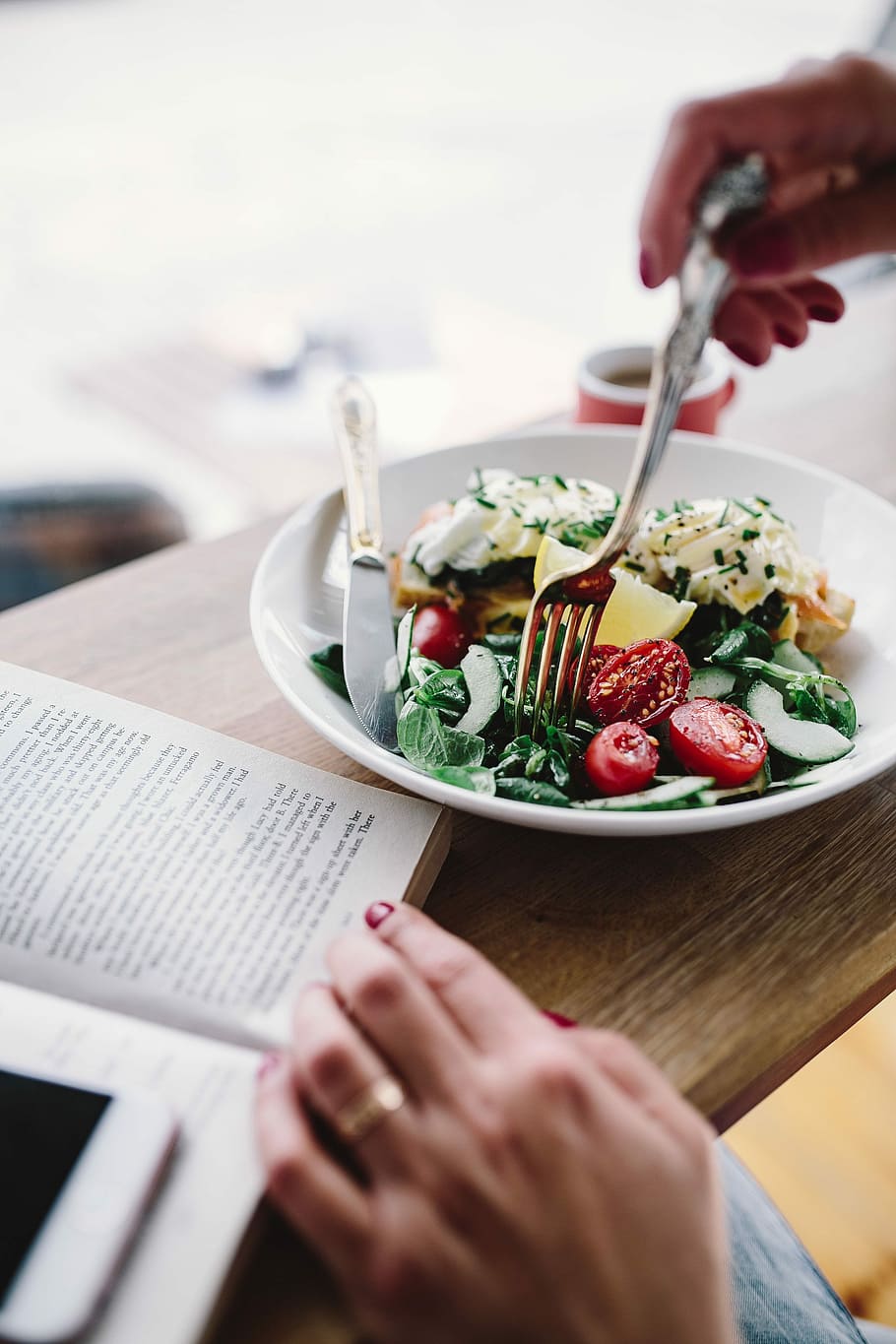 Contents
1. Starting Your Day with Power: Low-Carb Breakfast Ideas
Starting your day off right is key to a good day. Eating a healthy breakfast can help give your day a powerful kick-off. If you're interested in eating a low-carb meal, saving some time for meal-prepping, and satisfying your tastebuds, then these options will have you well on your way!
1. Keto-Friendly breakfast burrito
3 large eggs
3 strips of bacon
1/4 cup of shredded cheese
1 tablespoon of butter
A breakfast burrito is a great way to get your day moving. Start by prepping your bacon and cooking it in the pan until crispy. Once your bacon is cooked, add butter to the pan and allow it to melt before adding your eggs. Whisk them until fully cooked, then combine your eggs and crispy bacon with the cheese and wrap them in your favourite tortilla wrap. Delicious and nutritious!
2. Keto-friendly eggs & veggie scramble
2-4 tablespoons of olive or coconut oil
1/2 cup of diced onion
1 cup of diced bell peppers
4 large eggs
1/4 cup of grated cheese
A delicious aroma of sautéed vegetables and eggs can revive any morning blues! Start by heating your olive or coconut oil in a pan and adding your onion and bell pepper. Sautée them for 2-3 minutes before adding your eggs. Whisk them until they are fully cooked and then add your cheese. Plate your creation and enjoy a delectable low-carb breakfast!
3. Keto-friendly breakfast smoothie
1/4 cup of almond milk
1/4 cup of coconut milk
1/4 cup of crushed ice
2 tablespoons of almond butter
1 scoop of your favourite protein powder
Packing a powerful breakfast in a silky smooth texture is an easy and tasty way to start your day! Combine your almond and coconut milk, crushed ice, almond butter and protein powder in a blender. Whiz them together to a smooth consistency and pour into your favourite glass. Cheers to a healthy and filling start to the day!
2. Go For Real Food: Delicious Low-Carb Treats
Going low-carb doesn't mean giving up delicious, pleasing treats. If you're trying to kickstart a healthier lifestyle, having tasty yet low-carb treats in your arsenal might be the key to success. From melt-in-the-mouth desserts to finger-licking snacks, look no further than the following low-carb ideas to keep you energized and feeling satisfied throughout the day!
Smoothies: Start your day off the right way with a creamy and nutritious smoothie or milkshake. By adding ingredients such as cocoa powder, avocado, banana, protein powder, oatmeal and spinach you can get the exact balance of carbs and fats that your body needs to stay strong and healthy.
Chocolate-Banana Shake: Mix cocoa powder, banana, almond milk, and protein powder for a completly satisfying start to the day.
Almond Butter and Banana Bliss: Blend almond butter, avocado, and banana to create a thick and moreish smoothie.
Creamy Avocado Smoothie: Prepare with Greek yogurt, avocado, and honey for a divine way to start your day.
Healthy snacks: Stave off between-meal hunger alongside these low-carb snacks. Bite into crunchy vegatables, dip into delicious guacamole or munch on a juicy apple paired with peanut butter.
Avocado Fries: Oven-baked and ever-so-tasty, avocado fries bring a twist to regular, carb-filled french fries.
Baked Celery Chips: Domesticate melon-sized celery stalks and slice into chips. Bake for 15 minutes for a crunchy snack.
Tuna Salad on Cucumbers: Cube cooked potatoes, mix them with tuna and slather it atop cucumber slices for a light and nifty snack-time treat.
3. Shake It Up: Low-Carb Smoothie Recipes
Butterfly Blue Smoothie Bowl
Start your morning off with a big bowl of creamy, dreamy butterfly blue smoothie bowl. This nutritious breakfast bowl is low in carbs but big on flavor and is sure to give you the energy boost you need to kickstart your day. It's made with yogurt, almond milk, blueberries and peanut butter – all sent off with a sprinkle of cinnamon. Toppings are up to you – maybe some fresh fruit, nuts, or a drizzle of honey – get creative!
Berry Coconut Protein Cheesecake Smoothie
Packed with fiber, protein and healthy fats, the Berry Coconut Protein Cheesecake Smoothie tastes like dessert but acts like a meal. It's super simple to make – it just takes a few minutes in the blender – and oh so delicious. The key ingredients are: almond milk, coconut cream, protein powder, blackberries and vanilla extract. No-bake cheesecake never tasted so good!
Spinach-Mango-Banana Green Smoothie
It may not sound as enticing as the other two smoothies on this list, but trust us, the Spinach-Mango-Banana Green Smoothie is still delicious and nutritious. You'll need spinach, mango, banana, coconut water and chia seeds. For a touch of sweetness, consider adding some honey or agave syrup. It's a great way to give your body a boost and power through the day.
Butterfly Blue Smoothie Bowl
Berry Coconut Protein Cheesecake Smoothie
Spinach-Mango-Banana Green Smoothie
4. Move Over Eggs and Bacon: Low-Carb Alternatives
Breakfast is the most important meal of the day, yet all too often it's reduced to the same old routine of eggs and bacon. But what if you're craving something a bit healthier, or you're following a low-carb plan? Here are some delicious, easy-to-make alternatives that are sure to become your new morning staples.
Eggs with Salsa – Eggs are the go-to for breakfast, but over-cooking and adding too much butter or oil can add unwanted fat and calories. Instead, why not give your eggs a spicy, Mexican-inspired twist? Simply fry one or two eggs until cooked to your liking, and top with a light, fresh salsa mix of tomatoes, onion, garlic, peppers and a pinch of coriander. Serve with a side of oven-baked wedges.
Vegetable Frittata – Frittatas are great as they're so versatile and you can easily adjust the recipe to fit your dietary needs. Take a handful of vegetables – spinach, mushrooms and pepper work well together – and lightly fry in olive oil. Add a few beaten eggs and cook until the omelette is set. This dish is packed full of nutrients and ideal to make in big batches and freeze for breakfasts throughout the week.
Greek Yogurt and Fruit – Greek yogurt is loaded with potent vitamins and minerals and is low in carbs and fats. Simple top with your favourite fruit for an easy, energising breakfast and a great source of protein. It's also a great base for smoothies – just add almond milk, avocado and berries and you're good to go!
5. Get Creative: Low-Carb Breakfasts You May Not Have Thought Of
Scramble up a few egg whites with some greens like spinach or kale. To make it even more delicious, top it with some low-fat cheese or even a dollop of Greek yogurt.
Frittata and quiche: These savoury dishes are a great way to get your protein from a variety of items and use seasonal vegetables and/or meats. Pair it with a few slices of fresh tomatoes or grilled mushrooms and you are set.
Smoothie Bowl: Blend some almond milk with Greek yogurt, chia seeds, berries and hemp hearts and top with slices of nuts and seeds for crunch. Or try a green smoothie bowl made with spinach, cucumber, avocado and spirulina for a power-packed start to the day.
For something a little sweeter but still healthy, you can't go wrong with chia pudding. Combine some chia with Greek yogurt, a scoop of green powder, maybe some cocoa nibs, and let it all thicken in the fridge overnight. You can enjoy it with fruit slices, shaved coconut, or some nut butter.
If you are looking for something grab-and-go, savoury muffins may be the way to go. Crack some eggs into a bowl, add in some cooked veggies, a sprinkle of cheese, some herbs, and maybe some crumbled bacon. Pour the mix into pre-greased muffin tin and bake for 25 minutes or until edges are golden brown. Enjoy with a spoonful of Greek yogurt or some veggie slices.
My Answers
Q: What meals are best for a low-carb morning?
A: Eating lean proteins, such as eggs or cottage cheese, and incorporating vegetables into your meal can be the perfect low-carb way to kickstart your morning. For instance, an omelet with mushrooms, spinach, and tomatoes would provide a nutritious breakfast with a low-carb content.
Q: What are some other low-carb breakfast options I can try?
A: Other nutritious breakfast snacks you can try include yogurt and berries, chia pudding, or a breakfast smoothie. You could also make a lighter version of pancakes (using almond flour or ground oats instead of regular flour) or swap out regular toast for a high-fiber and low-carb alternative like whole wheat bread or a bagel.
Q: Are there any other tips to keep breakfast low-carb?
A: Yes, try to limit any sweeteners or added sugars to your breakfast dishes — look for sugar-free and low-calorie alternatives instead. And finally, it's important to practice portion control and stay mindful of how much you are eating.
Be adventurous and inventive with your low-carb morning meals – and don't be afraid to put in a little extra effort during the most important meal of the day. With the delicious and nutritionally beneficial options out there, you're sure to find something to start your day off right. Here's to filling your mornings with low-carb goodness all year round!